The right 'axxent' for your business!
We care about your business challenges!
'Management Consulting': A general term that can cover a lot of area's.
Axxentis Management Consulting is a dynamic company that focuses on providing thorough and extensive advice in the following area's:
Operational Management
Engineering
Supply Chain Management
Research & Development
Change Management
General Management
Expertise and competences in the above mentioned domains are built on years of experience in the Food industry as well as in the Pharmaceutical industry.
The strength of Axxentis lies in the provision of services 'on-site' for the client. This can apply for strategic and organisational support as well as for project-related advice in a specific area.
Axxentis is fully dedicated to the client's business challenges.
Who?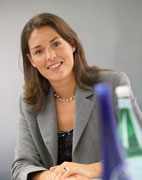 Ir. Hannah Spaepen, Managing Director of Axxentis, has a wide experience in the domains of Research & Development, Engineering, Operations Management, Supply Chain Management, Change Management and General Management. All this in the Food Industry as well as in the Pharmaceutical Industry.
She studied at the University of Leuven and holds a Master Degree in Chemical Engineering with specialization in Food Science and Technology.
During her career, she participated in several educational programs and in – house courses in different major companies. Amongst these employers are e.g.: Janssen Pharmaceutica (Johnson & Johnson), MARS (Masterfoods) en VACO (Bakkavor).

Recently she has successfully attended the Executive International Management Program at the Vlerick Management School in Gent.
References
Plant Manager – VACO (Belgium)
Technology Support Manager – Helifood Fresh (Czech Republic)
Supply Chain Manager – Masterfoods (Mars Europe)
Engineering Project Manager – Mars (Belgium)
Development Manager Pilot Plant – Janssen Pharmaceutica (Belgium)
Links
Contact
Axxentis
Bleidenhoek 1
B-2230 Herselt
Tel. +32(0)473 95 65 87
hannah.spaepen@axxentis.be
Coordinates
Axxentis
Bleidenhoek 1
2230 Herselt
Belgium
Tel. +32(0)473 95 65 87
info@axxentis.be
Location